Jan 20, 2008 at 12:03 PM
Quantum Illusions updated The Otago Motorcycle Club's Logo, and the The Brass Monkey Logo that can be used for printing and websites etc.
Feb 25, 2008 at 10:44 PM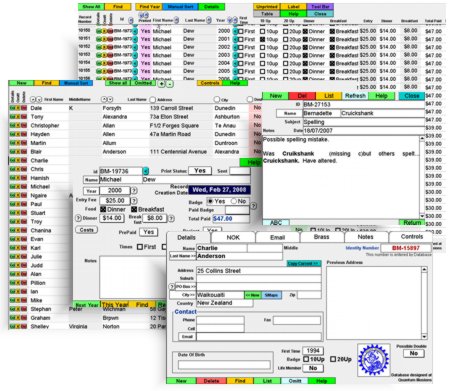 The core use of the database tracks users and the number of times they have been to the brass monkey rally. This is to help the club when issuing what is known as a 10up or 20up badge and plaque. It also does a few other nice little things. Each member can have any number of notes attached or emails sent. It prints the labels each year, and gives an estimate the totals, what year was there first year, did they pay for dinner and breakfast etc.
The help file is simply a related table and database, with scripts the help find the correct record when you click the help button. You can dynamically add various cost to things ie; Gate Entry fee, PrePaid Entry, Breakfast , Dinner etc.
Due to the clubs computer that is being used for the brass monkey, I had to develop this in an older version of FileMaker not the current version 9 as I orginally planned due to the clubs computers were well pretty old.